One of our favorite things to do on a Friday night is watch YouTube videos with our kids.  It sounds a little dull, but trust me, it's really fun when you have a preschooler and toddler for entertainment!  We sing and dance along to 80s music videos, Gangnam Style parodies, and funny songs from movie soundtracks, like the Minions Banana Song from Despicable Me.  It's a banana obsession, so much that I'm thinking of getting them these hats for Christmas. Yes, one for my husband, too.  He wears a Perry the Platypus t-shirt, so I have no doubt he would rock this hat in true 'daddy style'.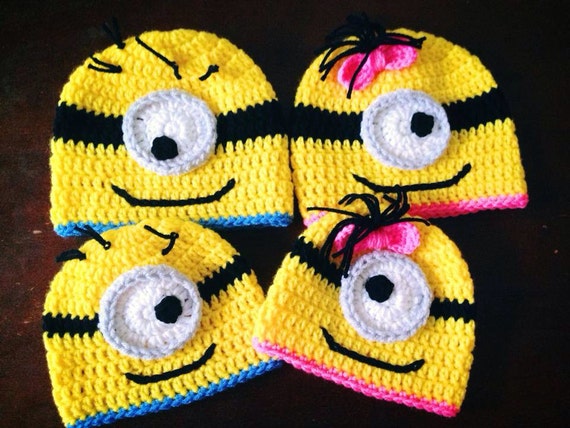 Photo:  TheHookUp3400 Etsy Shop
Let's be honest, I've been known to hide fruits and vegetables in my kid's food, and I'm willing to bet you've done it, too.  They'll thank me for it some day I'm sure, but in the meantime, they'll just enjoy eating this delicious banana bread.  This is the recipe I use, adapted from the Deceptively Delicious cookbook.  The hubby says it tastes just like his grandma's banana bread, and that's a good enough testimonial for me!  Enjoy! 🙂
Ingredients
3/4 cup whole wheat flour ( I use King Arthur White Whole Wheat Flour)
1/2 cup all purpose flour
1/2 tsp baking soda
1/4 tsp baking powder
1/2 tsp salt
1/2 tsp cinnamon
1/4 tsp pumpkin pie spice
1/4 cup brown sugar, packed
1/4 cup PURE maple syrup
* If you don't have PURE maple syrup you can use all brown sugar
1/4 cup unsalted butter, melted
1 egg
2 cups banana puree (about 4 large overripe bananas)
1 tsp vanilla extract
1/2 cup walnut pieces
Instructions
Puree your bananas in a food processor until smooth, or mash with a fork in a bowl.  Set aside.
Preheat the oven to 350 degrees. 
Whisk together both flours, baking soda, baking powder, salt, cinnamon and pumpkin pie spice in a bowl.  Set aside. 
Using a stand mixer fitted with a paddle attachment or a large mixing bowl and a wooden spoon or spatula, combine the sugar, maple syrup and oil. 
Add the banana puree or mashed bananas, egg and vanilla. 
Add the dry mixture to the wet mixture and mix until combined. 
Fold in the walnuts. 
Spray a loaf pan with non-stick cooking spray and pour in the batter. 
Tap the pan on the counter a few times (to get out the air bubbles) and bake for 55 to 60 minutes, or until a toothpick inserted in the center comes out clean. 
Let cool in the pan for 5 minutes, then run a butter knife around the edges before transferring to a cooling rack to cool completely.
http://pearlsplusgirls.com/2013/11/my-minions-love-bananas/